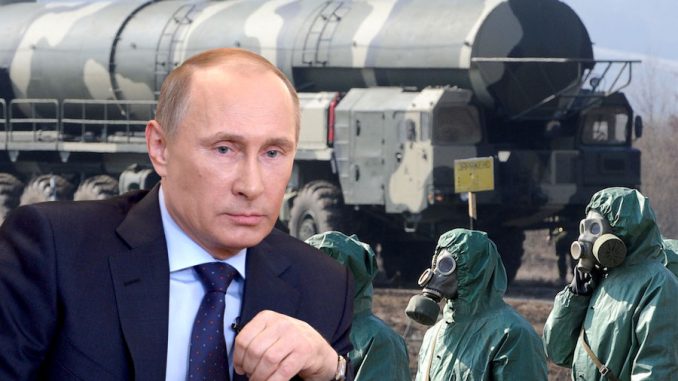 By Adnan Khan
On 1st March 2018 Russian President Vladimir Putin in his annual address to the Federal State spent over half his two-hour speech talking about a renewed global arms race, revealing a series of videos showcasing Russia's new military capabilities.[1] This was in response to the Pentagon's new National Defence Strategy, the first in 10 years, in which it called strategic competition the "central challenge to US prosperity and security," citing both Russia and China directly.[2] All this has led to new, destabilising weapons platforms and technologies to enter into more common use, with long-standing arms control agreements deteriorating. These developments together promise to usher in a new era of international competition that will rival the Cold War.
Capable missile defence systems are playing a central role in the struggle between the global powers. Russia has for long been concerned about America's Ballistic Missile Defence (BMD) system in Eastern Europe that could make its ballistic missiles ineffective. From Russia's point of view, US investment in ballistic missile technology poses a serious long-term threat. China has mentioned similar concerns with the US Terminal High Altitude Area Defense (THAAD) system in South Korea.[3] The US has several research and development efforts underway, including systems featuring lasers and high velocity guns. The future of US BMD is prioritising advanced radars, space-based infrared sensors, airborne boost-phase laser interceptors and more manoeuvrable vehicles. This means an increasingly precise US nuclear arsenal coupled with a reliable anti-ballistic missile network could enable the US to launch a decapitation strike, which would severely damage Russia's leadership structure and its nuclear arsenal in a first strike. It would also leave the US able to intercept and destroy the surviving missiles that Moscow would launch in retaliation.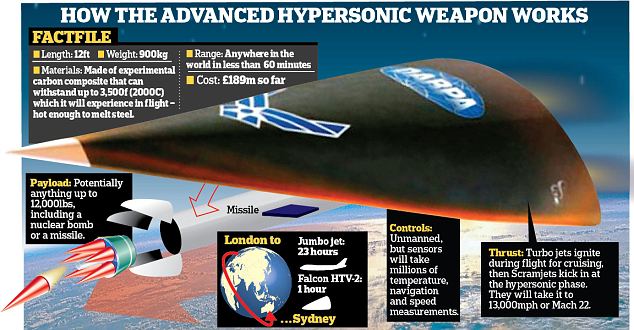 To counter the US lead in anti-ballistic missile defence systems both China and Russia have turned to hypersonic  missiles. The missiles' high speed — at least five times the speed of sound — facilitates their rapid use and boosts their rate of survival by making them difficult to intercept. For China and Russia, it provides them with a potent way to threaten US aircraft carrier battle groups. Currently two primary types of hypersonic missiles are emerging. Hypersonic Glide Vehicles (HGVs) are launched by rockets into near space, where they are released and fly to their targets by gliding along the upper atmosphere. They travel at the upper levels of hypersonic speeds (upto 5 miles a second) and altitudes. Hypersonic Cruise Missiles (HCMs) are powered all the way to their targets by rockets or advanced jet engines, such as scramjets. They are faster versions of existing cruise missiles. Because they are manoeuvrable, both missile types are far more difficult to defend against than legacy ballistic missiles. Moreover, their flight altitude and manoeuvrability result in less warning as compared with higher-flying ballistic missiles. For the US, hypersonic missiles offer a means by which it can gain its desired capability of striking anywhere in the world in less than an hour, an effort known as Prompt Global Strike.[4]
Nuclear weapons are already a major point of contention between the US and Russia. Moscow is aware of it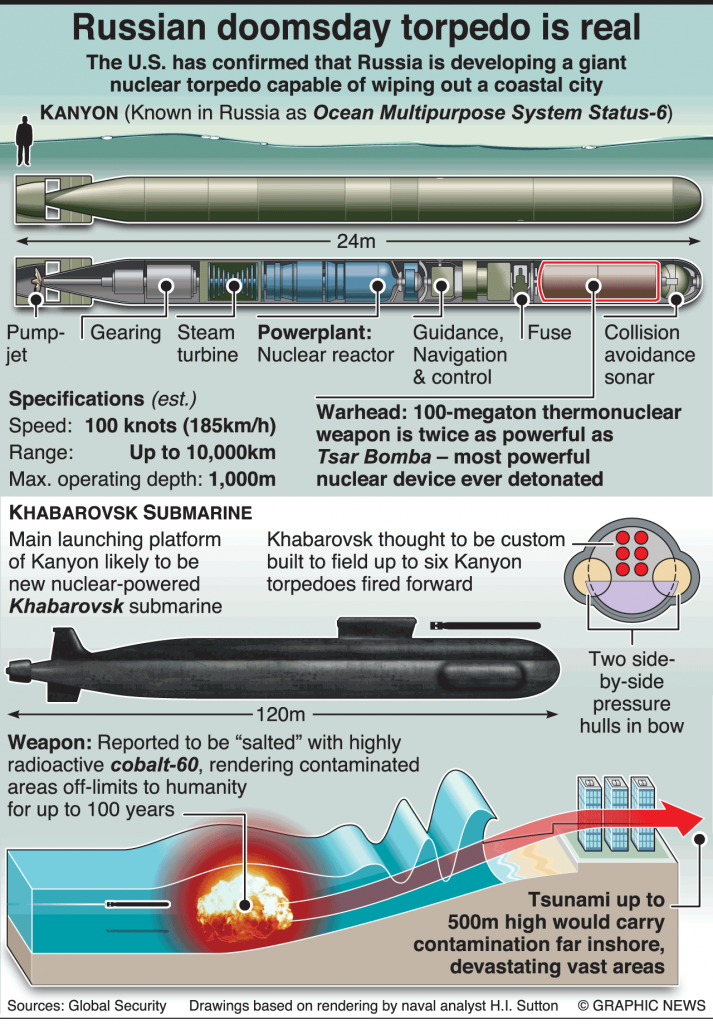 s overall conventional military weakness against NATO and a rising China. In response, it has progressively leaned on its nuclear arsenal as its ultimate deterrent. In fact, Moscow has explicitly outlined in its Defence White Papers its willingness to use nuclear weapons against an existential non-nuclear threat, such as invading armies.[5] In light of this the Trump administration's Nuclear Posture Review in February 2018, highlighted a Russian weapon called "Status-6," a type of doomsday device that is a new intercontinental, nuclear-armed, nuclear-powered, undersea autonomous torpedo. This was something Putin also presented at his annual address to the Federal State. The Status-6 appears to be a deterrent weapon of last resort. It can travel at speeds of 185 km per hour  with a range of 10,000 km and a depth maximum of 1,000 m (3,300 ft). This underwater drone is cloaked by stealth technology to elude acoustic tracking devices. Delivering nuclear weapons via an assortment of delivery systems makes countering them impossible, even for the US. If Putin statement is true, he is saying Russia has been able to shrink a nuclear reactor, which carries out a nuclear chain reaction into a Torpedo. There are serious questions marks of this is even possible.
The US nuclear posture report also came in the context of Trump recently announcing the developing of tactical nukes, for use in the battlefield. The Review proposed shifting America's stance on the use of nuclear weapons and to introduce new ones, including a low-yield warhead for submarine-launched ballistic missiles. Low-yield nuclear weapons aren't a new development for the US, but putting them on a ballistic missile submarine is. The move is intended to address the growing concern by US military officials that the gap between the US and the rest of the world in conventional weapons is rapidly diminishing. Military officials have now come to believe that even against second tier states the US cannot avoid large casualties. Tactical nukes is a solution to this. Such nations could resort to an "escalate to de-escalate" strategy. Under that strategy, the inferior military power would use a low-yield or "tactical" nuclear weapon to discourage continued attacks from the US on the assumption that the US wouldn't strike back with its strategic nuclear arsenal for fear of starting a devastating war. But tactical nukes however used would lower the bar for use of nuclear strikes. Currently Intercontinental Ballistic Missiles (ICBMs) are used to carry nuclear payloads. But with other missiles carrying nuclear payloads, be it low yields, the country bring targeted may respond with an all out nuclear strike in any case.
The rise of disruptive weapons systems and the fall of critical arms control regimes the next great power competition is well underway. Arms races undermine the trust between the global powers and discourage cooperation. More discord and conflict will erupt between the US on one side and Russia and China on the other.
[1] https://www.nytimes.com/2018/03/01/world/europe/russia-putin-speech.html
[2] https://www.defense.gov/News/SpecialReports/2018NuclearPostureReview.aspx
[3] https://www.reuters.com/article/us-northkorea-usa-china/china-urges-withdrawal-of-u-s-thaad-missile-defense-system-in-south-korea-idUSKBN17S0N3?il=0
[4] https://fas.org/sgp/crs/nuke/R41464.pdf
[5] https://www.frstrategie.org/publications/notes/russia-s-evolving-nuclear-doctrine-and-its-implications-2016-01