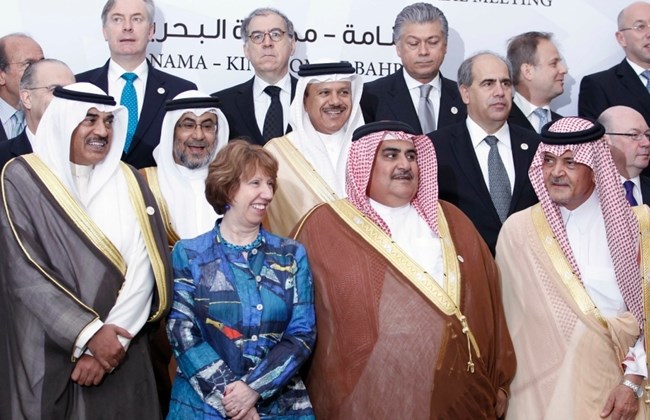 By Mozimmal Hussain
As the Syrian uprising fast approaches four years, military intervention finally took place. Despite constantly rebuking Basher al-Assad and his regime for its massacres, the intervention has in no way targeted the al-Assad regime but targets in the north of Syria – an area which was lost by the al-Assad regime long ago. Whilst the people of Syria, on the receiving end of US aerial assaults, continue to point to civilian deaths – highlighting the fact that even ISIS have not been targeted.[1] The role of the Gulf cooperation Council members (GCC) – Saudi Arabia, UAE, Bahrain and Qatar gained considerable attention, to the point their participation has been used as a moral justification. The fact that these nations looked the other way as Bashar al-Assad massacred his people suggests it is dubious to think that their intervention is altruistic. In analysing their capabilities and role, it becomes clear their role is one of client states rather than a leadership role.
The GCC member countries have long been saddled with particular military weaknesses stemming from geographical and demographic constraints.  However, the last two decades has seen a transformation in this military arena. GCC countries have invested heavily in modernising their air force capabilities.  The last decade has seen a triple digit growth in the budgets allocated to the air forces by almost all GCC countries principle of which are Kingdom of Saudi Arabia (KSA)  and the UAE.[2]  It may be assumed that the most advanced version of the F16 fighting falcon is operated by the US or even Israel, but that accolade actually goes to the UAE, whose F-16 E/F Block 60s are a half-generation ahead of the F-16 C/D Block 50/52+ aircraft that form the backbone of the US Air Force and of many other fleets around the world.[3] The UAE invested almost $3 billion into research and development for the F-16 E/F Block 60 Desert Falcon whose first flight took place in December 2003.  The most significant advancement of this iteration of the F16 is the Northrop Grumman's AN/APG-80 AESA radar and made the UAE the first fighter force in the world to field this revolutionary new radar technology outside of the USA.[4]
Not to be outdone, Saudi Arabia has had its own spending spree[5]. It recently purchased the twin engined  F-15SA which also comprises the most advanced versions of this venerable  airframe.  Among the Improvements on the F-15SA are fly-by-wire flight controls, a digital electronic warfare suite, Lockheed Martin AN/AAS-42 infrared search and track system and Raytheon APG-63(v)3 active electronically scanned array (AESA) radar. The forward and aft cockpits are equipped for the Joint Helmet Mounted Cueing System enabling the crew to aim sensors and weapons through their helmet visors and the aircraft has two additional wing stations for increased weapons payload capacity.[6] In addition to these airframes KSA has also purchased 72 eurofighter tranche 2 aircraft.  Equipped with CAPTOR-E AESA variant, these airframes are only half a generation behind the F35 and in some capabilities i.e. air to air engagements they are superior to the F35.   
Over the past two decades, much of the airpower development amongst GCC nations has been due to close alliances with major air powers such as the US, France and the UK. Gulf countries have leveraged these partnerships to acquire equipment, design training programs and develop doctrines for their air forces. Though largely lacking in combat experience, council member air forces have benefited from sustained participation in premier joint air force drills such as the US-run Red Flag and Green Flag exercises, as well as training with European air forces through deployments to countries like the UK and Spain. Emirati pilots have been particularly impressive at these exercises. The United Arab Emirates is even referred to as "Little Sparta" in certain US defense circles due to its capabilities.
Despite these developments the GCC states have largely built a relationship of dependency. Any long range operations require logistics and aircraft maintenance, something sorely lacking in the GCC. Saudi Arabia is particularly dependent on foreign contractor support and depot maintenance to run its large arsenal of highly sophisticated aircraft. Thus the GCC cannot maintain a high readiness level for long durations. Another key weakness is the council's lack of strategic intelligence, surveillance and reconnaissance capabilities. This is crucial in providing early warning and in target selection, as well as assessing battlefield damage after strikes have been carried out. Although GCC members have invested in aerial refueling capabilities, their capacity for supporting strike aircraft at long ranges is very limited. Given that tactical aircraft are highly dependent on aerial refueling tankers for long-range deep strike missions, GCC members will remain dependent on US tankers for sustained operations — in Syria for instance.
Despite being given considerable media attention, the role of the GCC is extremely small and is largely confined to providing logistics to US operations. While the massacres continues in Syria many of the GCC states refused to intervene and made token gestures in order to save face. Whilst Qatar and Saudi have funded, and to some degree armed various rebel groups, none of the surrounding Muslim countries have done anything to remove the al-Assad regime despite possessing the capability to do so. If there is any lesson to learn from the current intervention it is that the surrounding Muslim nations only moved when they are ordered by the West, despite the plight and massacres that take place in the region. Palestine is a glaring example of this.
1. http://www.latimes.com/world/middleeast/la-fg-syria-airstrikes-civilians-20140923-story.html
2. http://www.defenseindustrydaily.com/saudi-arabia-booming-spending-021532/
3. http://www.defenseindustrydaily.com/the-uaes-f-16-block-60-desert-falcon-fleet-04538/?utm_campaign=didsearch&utm_source=did&utm_medium=autosuggest&utm_term=F-16
4. Ibid
5. http://www.ainonline.com/aviation-news/ain-defense-perspective/2013-05-03/boeing-presents-first-f-15sa-saudi-arms-package
6. http://www.defenseindustrydaily.com/the-2006-saudi-shopping-spree-eurofighter-flying-off-with-10b-saudi-contract-updated-01669/