The British Queen on July 4 officially named Britain's new aircraft carrier in a ceremony at the Scottish dockyard, where it was constructed. The UK's largest warship marks 'a new phase in our naval history,' the Queen said. "In sponsoring this new aircraft carrier, I believe the 'Queen Elizabeth' will be a source of inspiration and pride for us all."[1] First Sea Lord Admiral George Zambellas said the ship was 'fit for a Queen.' 'HMS Queen Elizabeth will be a national instrument of power and a national symbol of authority.'  "That means she will be a national icon too, all the while keeping the great in Great Britain and the royal in Royal Navy." [2] The HMS Queen Elizabeth will become operational in 2020 and at 65,000 tons, she is expected to deliver a radical change in British capabilities. With Britain's recent interventions in Libya and Mali and numerous other global threats this is seen as a major development in Britain's global military capabilities. However, the development of an aircraft carrier and a number of other upcoming projects will not change Britain's military decline which has been a consistent feature since WW2.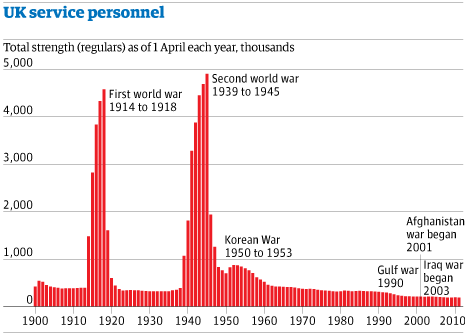 Britain's economic and political decline after WW2 was reflected by the military's declining global role. Its protracted decline was dramatically epitomised by its political defeat during the Suez Canal crisis in 1956. Unable to fund the empire and politically unable to influence the global situation, conscription was abolished and the size of the Armed Forces was reduced from 690,000 to 375,000 by 1962. The Cold War merely slowed Britain's shrinking industrial base, which fell at an accelerated rate after the fall of the Berlin Wall. Government arsenals were then privatised and today very little defence is in government hands. Following the October 2012 Strategic Defence and Security Review (SDSR) the British government plans to cut the military budget by 7.5% and the head count by 10% over five years, and to retire lots of equipment, leaving the armed forces with 40% fewer tanks and 35% less artillery.
Britain's combined armed forces consist of 205,000 personnel, with a further 181,000 in reserve. The ground forces dominate the forces with force strength of 104,000. The Strategic Defence and Security Review (SDSR) 2012 ordered the reduction of the ground forces by 2018 to 82,000 regulars. This means there will remain only two fighting (i.e. deployable) divisions that will command the bulk of the forces in the regular army. The UK will soon have one of the most land-centric force structure. By 2015, land forces will account for around 65% of total service personnel, compared with current levels of around 55%. Former Welsh Guardsman Simon Weston, who fought in the 1982 Falklands war said: "The biggest problem is that the cuts and redundancies are being made, but you need to have well-trained regular soldiers to send to any conflict straightaway. If you bring regular numbers down to 80,000, then that really means a fighting force of 20,000 with 60,000 soldiers to support them and carry out logistics."[3]
The British armed forces are now so intimately linked that, except for the most simple of deployments, all operations are approached from a joint perspective. As a result, the Royal Air Force (RAF) is based on smaller fleets of more sophisticated, capable and expensive platforms. This has led to a decrease in the range of design and development products for military fixed wing aircraft and extended the gaps between new products. New platforms such as the Typhoon and the F-35 are expected to have lengthy service periods for 30 years or more. No plan is currently in place for the UK to design and build future jet aircraft beyond these types. In the medium-to-long term, the RAF expects the defence industry to be primarily supporting and upgrading these platforms, rather than moving to design the next generation of aircraft. Besides the F-35, there are no next-generation fighter aircraft planned.
The Royal Navy has also failed to escape from the overall reduction in size. Since the end of the Cold War the navy began a series of projects to improve its fleet, with a view to providing enhanced capabilities, although many of these were cut or cancelled. This led to the replacement of smaller and more numerous units with fewer, but larger, units. The cuts over the last 20 years have severely undermined the fleet's ability to deploy its forces, even to the levels that the government commits it to. The 19 destroyers and frigates currently in service are not enough to deploy warships to the Falklands and Persian Gulf and maintain escort duties. The reality is the British marines and the navy are unable to operate independent of the army.
The UK defence industry is made up of a few very large companies which include, amongst others, BAE Systems, Thales, Goodrich, EADS Astrium, Airbus and GE Aerospace. But Britain's military industry is dominated by BAE Systems, who manufactures civil and defence aerospace, land and marine equipment, which include the Type 45 destroyer, aircraft carriers, the Eurofighter Typhoon and maintains Tornado and Harrier jets. Only the Type 45 destroyer is built entirely by British engineers, all other heavy military equipment is either imported from overseas or developed with partners. Very few military systems are indigenously constructed by Britain. Britain's industrial base is geared towards a few advanced platforms, but is extremely narrow and limited in platform development.
Unable to fund a large military industry and large armed forces, Britain's capabilities are extremely limited, despite its constant rhetoric. Although its overall forces are small currently, they are set to get even smaller. Even Britain's nuclear capability has been blown out of proportion. Britain has never had an independent deterrent. In 1958, the US-UK Mutual Defence Agreement (MDA) allowed the US to provide the UK with nuclear weapons designs, nuclear weapons, manufacturing and nuclear reactor technology, designs and materials. A secret British government assessment of 'The Dangers of Becoming an American Satellite' released after 1988 stated "The UK, in its relatively weak position, is already greatly dependent upon United States support. It would be surprising if the United States did not exact a price for the support, and to some extent it does so…the more we rely upon them, the more we shall be hurt if they withhold it."[4] Britain completely relies on a small Submarine fleet, just barely large enough to sustain a continually patrolling presence of one boat. Britain has long chosen to maintain a legacy nuclear arsenal, despite the substantial cost.
---
[1] http://www.bbc.co.uk/news/uk-28146412
[2] http://www.bbc.co.uk/news/uk-28146412
[3] http://www.bbc.co.uk/news/uk-26290478
[4] 'Planning Paper on Interdependence', Foreign Office, SC (58)8, Steering Committee, 27 January 1958, PRO FO371/132330, quoted in J. Baylis, 'Anglo- American defence relations 1939-1984', 2nd edition, Macmillan, London 1984.