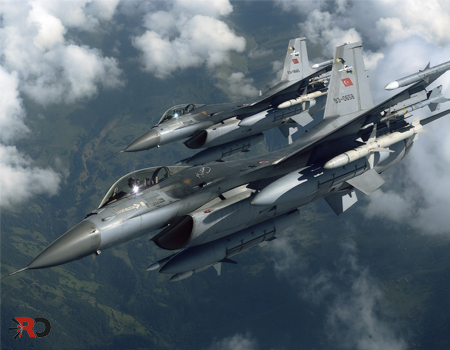 By Adnan Khan
The Turkish government has set a number of ambitions goals for the 100 year anniversary of the Turkish Republic in 2023. Amongst them is the modernization of the Turkish military into a robust and efficient military force that can protect Turkish interests abroad.[1] Various multi-faceted challenges need to be overcome for Turkey to acquire the so called 'ultra modern,' military it is seeking. The recent breakdown with China over the country's first long-range air and anti-missile system, due to intense pressure from the West and NATO shows the path to military modernisation is fraught with issues.[2] Whilst Turkey will need to overcome numerous barriers in order to modernize, there are four fundamental issues Turkey will need to overcome if it is to modernize its forces.
Firstly, Turkey's armed forces are dominated by a land centric structure which historically has been overwhelmingly defensive. The armed forces have been heavily involved in domestic politics and have spent significant years in power as a result of military coups against civilian rulers. Maintaining internal stability, maintaining the power and influence of the army, protecting Mustafa Kemal's ideals of secularism  dominated the posture of the army, which has effectively spent most of its history policing internal dissent. The rise of the Soviet Union as a global power and Turkey's entry into NATO in 1952 transformed it into a bulwark against the Warsaw Pact from 1945 to 1991. NATO was initially created to defend against the Soviet Union, which is fundamentally a defensive operation in holding a static line against any Soviet advance. Throughout this period Turkey's military doctrine was inherently defensive in its outlook, based on conventional force-on-force calculations with nuclear considerations relegated to NATO and the US. As a major power in the region, the country's NATO membership meant that the Turkish military has been set up as a defensive force to repel and absorb an invasion and is not predominantly configured to go onto the offensive.
Secondly, the civilian leadership has more or less removed the military from domestic politics through the prosecution of a large number of officers in the Ergenekon and Sledgehammer plots.[3] The Turkish leadership is reportedly planning to lower generals and admirals four year periods of promotion to three years and lower colonel's promotion period from five to four years.[4] This shorter promotion period will result in a more rapid change in the officer corps and allow a new class of officers to rise to the top. However, Turkey's biggest problem which has acted as a drain on the overall armed forces is conscription. Conscription is mandated by the Turkish Constitution, but the legislature determines how it is enacted. Currently, a healthy Turkish man with no college education serves for 15 months. Prior to 2003, the minimum requirement was 18 months. On October 21st 2013 the Turkish government voted to reduce the amount of time conscripted soldiers are required to serve to a term of 12 months.[5] There are further exceptions, such as men over the age of 30 buying their way out of service for a fee. Thus conscripts constitute the majority of Turkish service members, comprising some 500,000 soldiers. With such a short service time, many conscripts fail to gain experience after their basic training. As a result, the Turkish military has a small professional core surrounded by huge lightly trained forces.
Thirdly, Turkey boasts NATO's second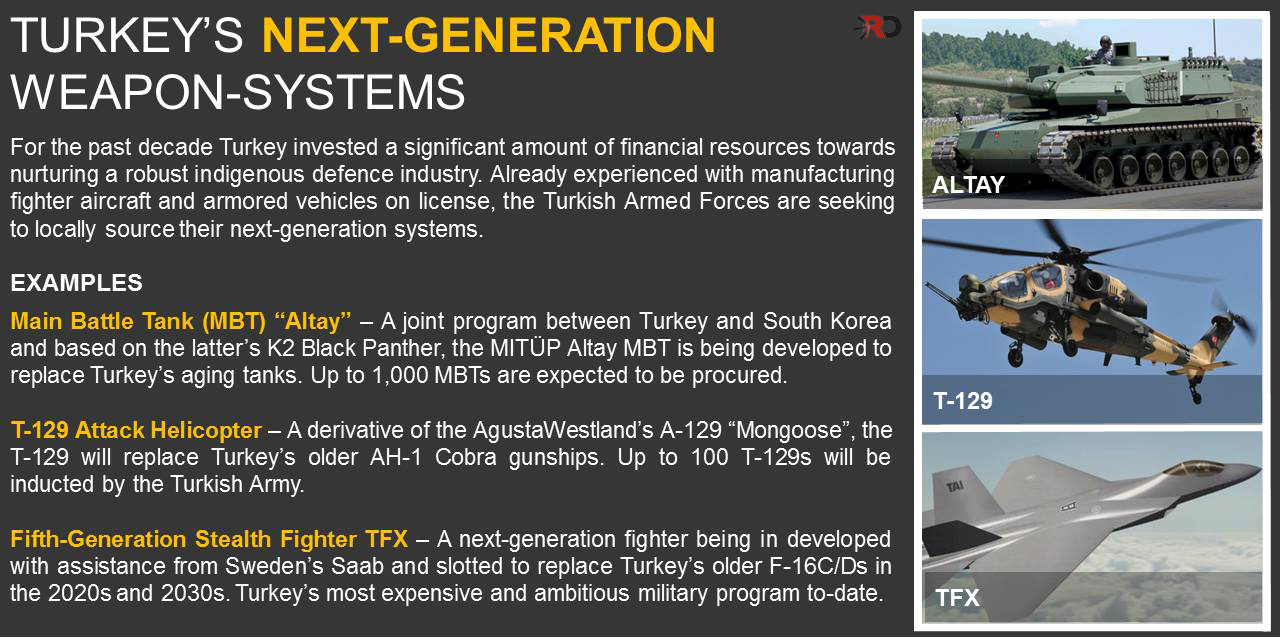 largest army, which is equipped with relatively modern battle tanks, self-propelled artillery and an increasingly capable army aviation force. However, much of this equipment is not indigenously produced. Whilst Turkey has made strides in avionics and participated in joint ventures, such as the F-35.[6] Turkeys first indigenously developed military platform – the third generation Main Battle Tank (MBT), the Atley, is only now coming online and over the next decade will replace around 3000 older tanks.[7] Turkey still relies on foreign platforms for its navy and airforce, but plans are afoot to change this. Turkey continues to assemble F-16's under licence,[8] however Turkey has ambitious plans for Turkish Aerospace Industries (TAI) to reduce dependence on US-produced fighter jets. In 2010 TAI was provided with $20 million, to design a new fighter aircraft, which TAI might then develop and produce in partnership with a foreign company by 2020.[9] Turkey's most ambitious and most expensive development program, the TFX, is a Fifth-Generation Stealth Fighter expected to begin its test flights in 2023. The TFX is a next-generation fighter program in cooperation with Sweden's Saab and designed to replace Turkey's fleet of F-16C/Ds starting in the 2020s.[10]
Fourthly, Turkey lacks any WMD capability and continues to stick to outdated nonproliferation regimes. Turkey continues to accept NATO's nuclear guarantee. Turkey received US nuclear gravity bombs and dual-capable US aircraft at its NATO air bases in 1957, followed by US medium-range Jupiter ballistic missiles in 1959. Today Turkey has no indigenous WMD capability. Only in May 2013, was a Japanese-French consortium selected to build Turkey's second nuclear power plant.[11]  Due to this Turkey has a limited ballistic missile arsenal and lacks anything beyond short range capability and even these are foreign missiles. This is why Turkey was forced to look abroad for missile defence capability, and its agreement with China, which included significant technology transfer, received much criticism from NATO and the US as it would mean Turkey would be on the road to self-sufficiency.[12]
Whilst challenges remain for the Turkish military-industry-government hierarchy, the establishment of the Undersecretariat for Defence Industries (SSM) led to efforts and policies in support of local industries. One of the main tasks of the SSM was to re-organize and integrate the existing national industry so as to satisfy defence industry requirements, encourage new enterprises and channel them according to the integration requirements. The SSM has also seeked possibilities for foreign capital and technology contribution and guided enterprises and developed plans for state participation in the defence industry. Despite the challenges ahead the growth of the Turkish economy over the last decade has seen significant funding for the military which should aid the Turkish military to transition into an effective 21st century force.
---
[1] http://www.businessturkeytoday.com/2023-vision-of-the-republic-of-turkey.html
[2] http://www.scmp.com/news/china/article/1506989/turkey-hints-scrapping-china-missile-system-deal
[3] http://en.wikipedia.org/wiki/Sledgehammer_(coup_plan)
[4] http://www.turkishweekly.net/news/166349/turkish-military-mulls-major-restructuring.html
[5] http://en.trend.az/news/politics/2269832.html
[6] https://www.f35.com/global/participation/turkey-industrial-participation
[7] http://en.wikipedia.org/wiki/Altay_(tank)
[8] http://www.f-16.net/f-16_users_article21.html
[9] http://www.defensenews.com/article/20130606/DEFREG04/306060018/Turkey-Picks-Saab-Mentor-National-Fighter-Program
[10] http://networkedblogs.com/L101M
[11] http://wmdjunction.com/130513_turkey_nuclear_history.htm
[12] http://www.neurope.eu/article/turkey-china-missile-deal-angers-west