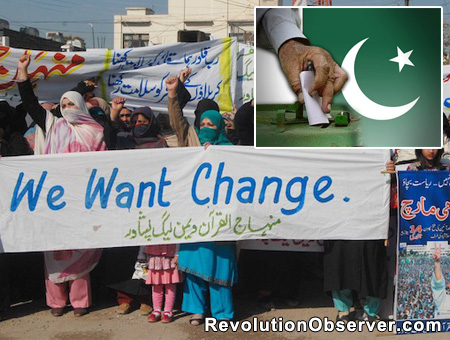 By Bilal Khan
The 2013 General Elections in Pakistan concluded with the Pakistan Muslim League (PML-N) emerging as the leading federal party in terms of National Assembly seats, and with Nawaz Sharif poised to begin his third term as Prime Minister. With the help of independent parliamentarians, Nawaz Sharif is expected to govern the country with a comfortable majority government.[1] Behind the PML-N is the Movement for Justice
Party

(Tehreek-e-Insaaf (PTI)) – led by Imran Khan, a political force that has emerged to join as one of Pakistan's leading federal political parties. Nearly 60% of the country's electorate came out to vote, a significant increase from 44% in 2008 and the highest turnout since the 1977 elections.[2]
Election Background
Imran Khan campaigned on a platform of resolving the dire economic and security challenges faced by Pakistanis, particularly young people who have become disenfranchised with the corruption and apparent incompetence of the governing political party, the PPP.[3] Imran Khan's popularity (and inversely, the PPP's decline) in public opinion was also driven by his party's insistence on maintaining Pakistan's territorial sovereignty, particularly in the face of U.S drone strikes and incursions.[4] Nawaz Sharif and the PML-N also campaigned on a similar platform, with Sharif explicitly stating that he would reexamine Pakistan's support in the U.S-led Global War on Terror.[5] However, it is expected that Sharif will pursue a 'pragmatic' approach in appeasing the United States, especially in the hopes of securing American help in demonstrating short-term economic progress by his government.[6]
Imran Khan and Tehreek-e-Insaaf (PTI)
Prior to polling, analysts believed Imran Khan, whilst being considerably more popular than he was in previous elections, would not win a sufficient number of seats to form a government, much less a majority government necessary to legislate effectively.[7] However, the PTI surged into becoming the official opposition, with its gain being most pronounced in Khyber-Pakhtunkhwa (KP) province in Pakistan's northwest, sufficient to allow the PTI to form a provincial government with the support of trailing parties, such as Jamaat-e-Islami.[8] Over the next five years Imran Khan can continue to promote his campaign platform in the more credible role of official opposition, a plan his key policy driver Asad Omar reiterated towards the end of polling.[9] 
Should the federal government fail to uphold its promises of safeguarding Pakistan's territorial sovereignty, Imran Khan can use the legislature to discredit the PML-N and the wider political-security establishment. This will undoubtedly allow Imran Khan to cement his core support base within the electorate, i.e. young people desiring substantive change and national sovereignty, whilst demonstrate that the democratic system of Pakistan is progressing in terms of allowing straight and effective political entities to enter and thrive. With 56% of the Pakistani population denouncing democracy as an effective and acceptable political system[10], wider acceptance of PTI as a viable power in 2018 or 2023 can dampen current public outcries against the country's systemic problems. Outcries illustrated by a survey by the British Council which reported 38% of Pakistani youth would prefer Shar'iah Law to democracy.[11]

Nonetheless, should ineffective governance remain pervasive under PML-N as it has under the PPP's rule, Pakistan's political position will continue to decline relative to its neighbour India. Challenges such as official corruption, energy deficiencies, unemployment and deteriorating internal security will serve to continue weakening the Pakistani economy, and in the process, the country's capacity to exert political influence or strengthen its armed forces. In fact, it is believed that the country will require another International Monetary Fund (IMF) bailout in the near future, thus adding further pressures to its fiscal capacities.[12] However, the country will likely see a number of short-term economic gains under Sharif.

Provincial Implications

Khyber-Pakthunkhwa (KP), having been at the epicenter of receiving the most damage, insecurity and instability resulting from the U.S War on Terror, has become the core of PTI's electoral support base. Upon inheriting the region's challenges, PTI will be expected to act upon its promise of addressing territorial sovereignty. However, given that these matters are largely under the purview of the federal government, PTI need only to simply critique the federal government's policies. Imran Khan's government will also inherit the province's existing infrastructure programs, such as its hydro-energy projects[13], and has the opportunity to see these programs to fruition over the next five years. Noticeable increases in literacy, poverty-reduction and other civil-issues will position KP as a permanent hub-of-support for the PTI (akin to how PML-N is able to draw a consistent stream of support from Punjab), thereby cementing its longevity and permanency in Pakistan's political establishment.

Conclusion

The dramatic rise of PTI (in becoming the country's official opposition and KP's government) is reflective of the general population's desire for substantive change.[14] However, with the conclusion of these elections, little will change with regards to the country's foreign policies, such as its territorial sovereignty and geo-political stature relative to India. For one, unlike Imran Khan, Nawaz Sharif and the PML-N are not viewed as leading agents of positive change in the country, and there is little to suggest that Sharif's policies regarding the U.S will be different from those of the PPP. PTI's immediate objective will be to continue building its integrity as a viable alternative resulting from the democratic process, and its role as official opposition is aptly suited for its precedent of challenging establishment policies, yet not be engaged directly to make a substantive difference on the ground.

[1] Simon Tisdall. "Nawaz Sharif hopes for third time lucky as Pakistan's PM." The Guardian. 12 May 2013. Last accessed 12 May 2013.
[2] "Turnout 'nearly 60 per cent' in Pakistan vote: Chief Election Commissioner." The Economic Times. 12 May 2013. Last Accessed 12 May 2013.
[3] Syed Hamad Ali. "Imran Khan is no ordinary political candidate. He represents the hopes and dreams of young Pakistan." The Independent. 10 May 2013. Last accessed 10 May 2013.
[4] Ibid.
[5] Michael Georgy. "Imran Khan gains in Pakistan vote, Sharif remains frontrunner." Reuters 10 May 2013. Last Accessed 10 May 2013.
[6] Jahanzeb Aslam. "Pakistan Votes in Historic Election." The Daily Beast. 11 May 2013. Last Accessed 12 May 2013.
[7] Ibid.
[8] "PTI to form government in KP." Daily Times. 12 May 2013. Last Accessed. 11 May 2013 (Canada).
[9] Nasir Jamal. Dawn News. 12 May 2013
[10] Alan Cooperman and James Bell. "Pakistan To Hold Historic Election, But Pakistanis Are Skeptical About Democracy." Pew Research Center. 10 May 2013. Last Accessed 11 May 2013.
[11] Jon Boone. "Pakistan elections: Imran Khan and the charge of the lights-out brigade." The Guardian. 8 May 2013. Last Accessed 10 May 2013.
[12] Georgy. Reuters. 10 May 2013.
[13] "1,161MW hydro projects MoUs signed with Korean cos." Hydro World. 30 April 2013. Last Accessed 12 May 2013.
[14] Omar Waraich. "From Hospital Bed, Pakistani 'Change' Candidate Imran Khan Aims for Victory." Time Magazine. 10 May 2013. Last Accessed 10 May 2013.