By Nick Routley of Visual Capitalist
As we scroll through Instagram or cue up another episode on Netflix, most of us give little thought to the hidden network of fiber optic cables that instantaneously shuttle information around the globe.
This extensive network of cables – which could stretch around the Equator 30 times – is the connective tissue that binds the internet, and thanks to our insatiable appetite for video streaming, it's growing larger with every passing year.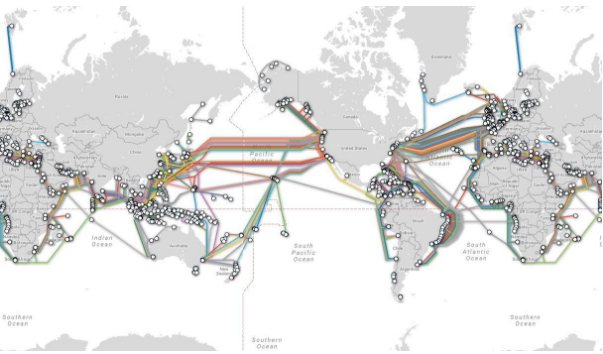 The video below, by TED-Ed, explains how fiber optic cables work and introduces the next generation of cables that could drastically increase the speed of data transmission.
A Series of Tubes
The late Senator Ted Stevens drew laughter for describing the internet as a "series of tubes" in 2006, but as it turns out, most of the information moving around the world does, in fact, travel through a series of tubes. Undersea fiber optic tubes, to be exact.
The way this system functions is deceptively simple. Light, which is beamed into a fiber optic cable at a shallow angle, ricochets its way along the tube at close to light speed until being converted back into an electrical signal at its destination – generally a data center. To increase bandwidth further, some cables are able to carry multiple wavelengths concurrently.
Impressively, this simple method of bouncing light through a tube is what moves 99% of the world's digital information.
The Glass Superhighway
Since the first undersea fiber optic cable, TAT-8, was constructed by a consortium of companies in 1988, the number of cables snaking across the ocean floor has risen dramatically. In fact, over 100 new cables will have been laid between 2016 and 2020, with a value of nearly $14 billion.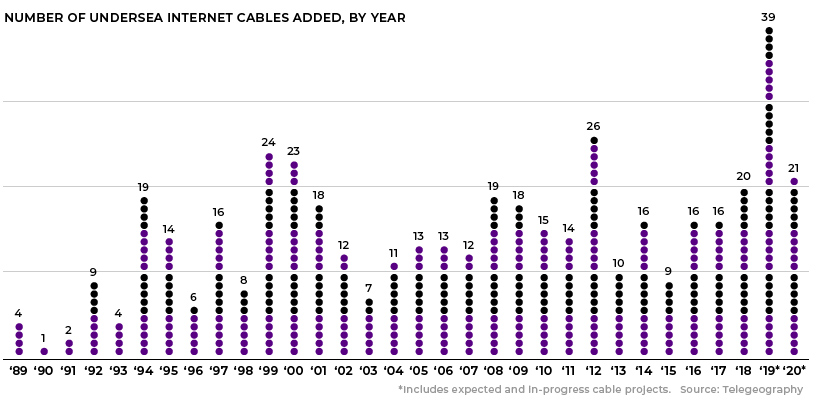 Increasing bandwidth requirements have transformed content providers from customers to cable owners. As a result, tech giants like Google and Facebook are taking a more active role in the expansion of the global fiber optic network. Google alone has at least five cable projects set for completion in 2019.
The Last Mile
Much like Amazon struggles with the "last mile" of deliveries, the transmission of digital information is much less efficient at the data center level, where servers are connected by traditional electric cables. These short-range cables are far less efficient than their fiber optic counterparts, losing half their running power as heat.
If this inefficient use of energy isn't solved, internet-related activity could comprise a fifth of the world's power consumption by 2030.
Thankfully, a related technology – integrated photonics – could keep the high-definition videos of the future streaming. Although the silicon wires used in integrated photonics do not guide light as effectively as fiber optics, the ultra-thin wires are far more compact. Photonic chips paired with burgeoning terahertz (THz) wireless communications could eventually form the backbone of a 6G network. Short-range THz signals would hitch a ride on silicon wires via tiny photonic chips scattered around population centers.
Before this efficient, high-capacity future is realized, researchers must first solve the puzzle of manufacturing photonic devices at scale. Once this method of data transmission hits the mainstream market, it could drastically alter the course of both computing and global energy consumption.