The Middle East has been blessed with mineral wealth, which the world's economy is dependent upon. This was something the US recognized very early and what led to the infamous 1945 meeting between US President Franklin D. Roosevelt and the Saudi King Abdul Aziz ibn Saud aboard the USS Quincy. The US state department described the Middle East In 1944 as: "the oil resources constitute a stupendous source of strategic power, and one of the greatest material prizes in world history."[1] Since WW2, the Middle East emerged as the world's most important source of energy and the key to the stability of global economy.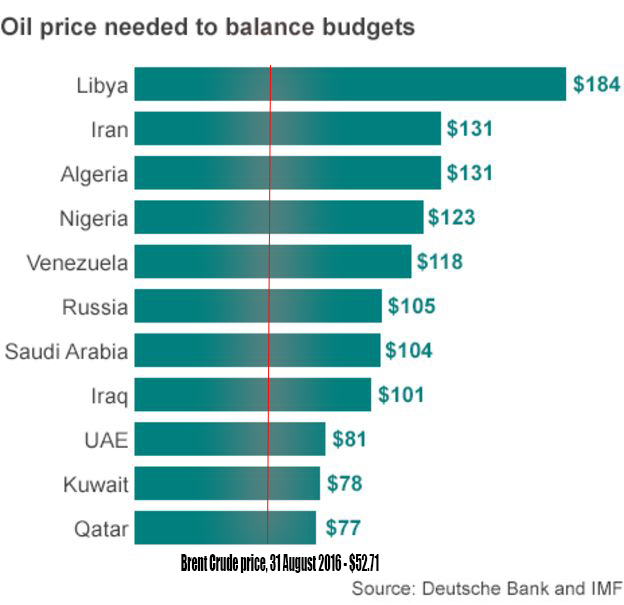 The energy rich nations heavy dependency on oil exports has created a dependency on the oil process and has kept such economies narrowly focused. The energy infrastructure in the region was constructed by foreign companies and today is dominated by foreign companies. Very little technology or knowledge transfer has taken place which could have reduced unemployment significantly. The regional nations have also embarked on major domestic investments in real estate, construction, oil refining, transport and communication and social services. Such huge energy wealth remains in the hands of monarchs, families and business elites with the vast bulk of the population languishing in poverty. In Saudi Arabia the oil wealth remains within the royal family who subsidise the lifestyles of their expanding family or the wealth is spent bailing out Western financial institutions.
The importance of the Middle East, despite developments in shale energy is only set to increase rather than decrease. This is because the Middle East will remain the main producer of oil as it is the cheapest to extract and refine. Shale energy requires more energy to extract and will always cost more than oil wells which were discovered less than a mile underground. The challenge going forward is can this oil bonanza be used to develop and create other industries which will create jobs for the increasing population in the region. For the moment, the rulers in the region have used the oil wealth for subsidies and foreign investment. With a growing population this is no longer sustainable.
[1] U.S. Department of State. Foreign Relations of the United States. 1945, viii, 45,  cited in Joyce and Gabriel Kolko, The limits of power, Harper & Row, 1972, which provides a comprehensive analysis of the development of U.S. policy at the time.