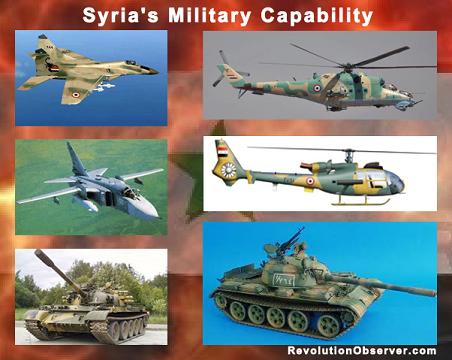 The security of a nation is essential for the survival of any country. A strategic doctrine, establishing ground forces, an air force, a navy, developing an industrial base to equip the officer corps and deploying them in various theaters are some of the basic duties of a nation's military. Syria, like much of the Muslim countries, has a military that has for long propped up the al-Assad regimes, which is playing a key role in stemming the current uprising. Understanding the capabilities of the Syrian regime is essential for any political observer who seeks to have a clear picture of reality on the ground.
Syria has very little indigenous military industry to speak of, and therefore the country has always been reliant on foreign procurement of military weapons and systems. Despite this, for a long time it has been assembling SCUD missiles in cooperation with North Korea and Iran.[1] Syria's military industry also manufactures rockets, notably the 220 mm and 302 mm rockets, which are of Syrian design and have been absorbed by the Syrian forces and even passed on to Hizbullah. The special security relations Syria has with Iran has also aided arms transfers into Syria. Both countries maintain close security relations and have jointly developed weapon systems, such as ballistic missiles.
The Syrian military consists of air, ground, and naval forces. Active personnel prior to the uprising were estimated as 295,000, with an additional 314,000 reserves.[2] The majority of the Syrian military personnel are Sunni, but Alawites make up most of the military leadership. The military's most elite divisions are the Republican Guard and the 4th Mechanized Division, which are commanded by Bashar's brother Maher and are exclusively Alawite. Only the air force consists mostly of Sunni's.[3] Syria's ground forces are organized into three corps with a total of seven armoured divisions, three mechanized divisions, one Republican Guard division, and three Special Forces brigades organized into a nominal division. It has four independent infantry brigades, one border guard brigade, and two independent artillery brigades. There is an independent tank regiment, and 10 Special Forces regiments.[2]
Prior to the revolution, the army's equipment included 4,700 tanks and 4,500 armoured personnel carriers. About 2,000 of the tanks are 1960s-vintage T-55s, another 1,000 only slightly newer T-62s. Another 1,700 are T-72s, from the 1970s and 1980s,[2] but many of those are embedded in static defensive positions, and none have received much in the way of spare parts or maintenance since the Soviet Union collapsed. These tanks would stand very little chance in the face of modern tanks. Syrian armoured exercises are slow moving and have poor combined arms content and there are almost no joint warfare trainings. 
The air force attack capability totals 10 squadrons, while its air defences forces total 16 squadrons. Their fighter jets consist of Su-24s and MiG-29 SMTs which are capable, however dated aircrafts. The bulk of its attack forces consist of Su-22s and MiG-23 BNs  aircrafts with limited capability to deliver precision or unguided weapons with accuracy. The air force has 611 combat planes, its combat planes are very old, consisting of Soviet Sukhois and MiGs and many of these are considered to be rusting. Syria's use of attack helicopters is more effective, but equipment and tactics have not been modernized since the early 1980s. The Syrian Air Force has around 90 attack helicopters split between Mi-25s and SA-342Ls.
Syria possesses 850 surface-to-air missiles, with 130 surface-to-air missile (SAM) batteries, many of which are now obsolete and are supported by aging radars and an obsolete command and control and management system. Most of Syria's missiles are Russian imports and reconfigured SCUD missiles, which are notoriously inaccurate.
The Soviet Union was the principal source of training and military hardware for the Syrian forces. The collapse of the Soviet Union plunged Syria into a crisis as it also meant the loss of their patron that had supplied them with arms and technical support. As a result, Syria stopped acquiring weapon systems and over the years its military capability decreased, as it suffered from severe shortages in parts its arms ultimately became obsolete. Anthony Cordesman, of the Center for Strategic and International Studies, highlighted that the Syrian army was not merely supplied but trained by the Soviets, and so inherited their highly centralized, top-down, take-no-initiative style of warfare.[4]
While the Syrian armed forces suffer from major arms shortages, discouragement and lack of certain capabilities, in the face of an invasion or attack they would be no pushover. While the West continues to present Syria's formidable military as one of the reasons for not intervening, this contradicts the reality of Syrian military capabilities as there are major concerns with most of its equipment. Bashar al-Assad is still able to muster a sizeable force even in the face of major defections, which still failed to end the uprising after nearly two years.
[2] "The Military Balance 2011", International Institute for Strategic Studies