European media outlets have been left licking their wounds after Recep Tayyib Erdogan secured the presidency for another term after a run-off on Sunday the 29th of May. Erdogan secured 52% of the vote despite obvious economic mismanagement and just three months since a devastating earthquake where the government was accused of negligence. The result comes after two weeks since the AKP alliance won a majority in Turkeys' parliament marking the seventh electoral success over a two decade period. Nearly 40% of Turkey's population have known no ruler other than Erdogan. Whilst Erdogan is now a serial winner in many ways, as his challenges grow, he can only lose now.
Erdogan has for long successfully divided the opposition and this ensured they were never able to unite to challenge the AKP in successive elections. But the electoral result likely makes uncomfortable reading for Erdogan and his party. After a number of landslide electoral victories the AKP since 2018 has needed alliances to win parliamentary majorities. For the first time in Turkey's 100-year history the presidential run off went to a second round. Whilst Erdogan received 52% of the vote, his challenger Kemal Kılıçdaroğlu received 47% of the vote, with 85% of the electorate turning out to vote. Kemal Kılıçdaroğlu and his party the Republican People's Party (CHP) were able to form a six-party Nation Alliance with the backing of Turkey's second-biggest opposition party, the pro-Kurdish HDP. Whilst there is no doubt the AKP and Erdogan are popular with a segment of the Turkish public, the secular opposition have now learnt in coalitions they can pose a significant challenge to the AKP. The CHP has now been forced to change with Kemal Kılıçdaroğlu during his election campaign admitting mistakes were made in the past with the imposition of secular values upon Turkey's conservative population. Only one thing has united Turkey's fractious opposition, hatred of the president. The longer Erdogan stays, the more united they are becoming.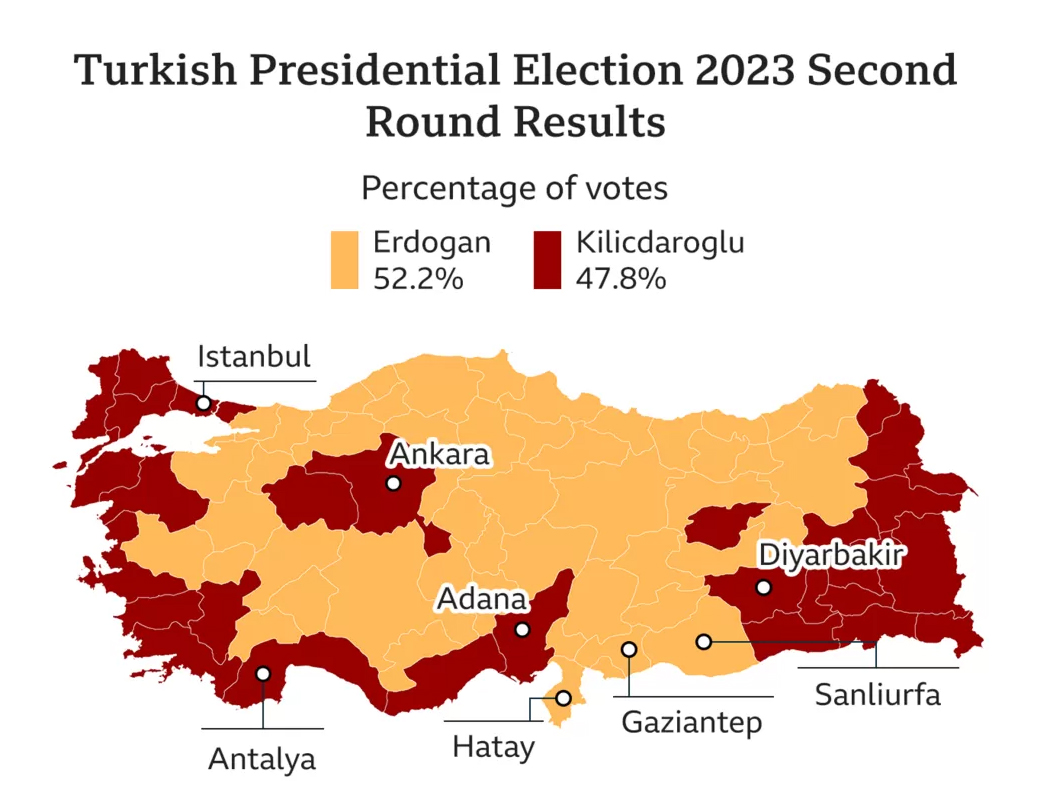 For the first decade of Erdogan's rule he could do no wrong with the economy. Turkey went from a $230 billion economy in 2002 to nearly a $1 trillion economy in 2013. Whilst this has now settled around $850 billion, the expansion of Turkish exports, new infrastructure, defence development and increasing prosperity saw the AKP win successive elections. But things have been very different in the second decade of AKP rule. Whilst the AKP repaid all Turkey's IMF debt in 2013 the national debt has only increased ever since and is now over half of Turkey's GDP. As much of this is borrowed in dollars this causes a regular currency crisis in the country. This has also caused runaway inflation, currently running at 90%, which has ruined Turkish industry, farmers, and retailers across the country. More than two-thirds of people in Turkey are struggling to pay for food and cover their rent, according to a survey by Yöneylem Social Research Centre, fuelling a surge in mental illness and debt. According to one economic  expert the strong GDP growth that Turkey experienced over the last decades was not "…even sustainable…" in the first place.
Many leaders across the world would give anything to win seven elections in a row, but as Erdogan will now be in power to at least 2028 opposition against him has only grown and he has responded by becoming more authoritarian and draconian. The AKP is turning more into an Erdogan cult with all potential challengers being side-lined. Abdullah Gul who established the AKP with Erdogan and was Turkish president from 2005, left the AKP in 2014 and now criticises Erdogan. Ahmet Davutoglu, who was Erdogan's chief advisor and became foreign minister in 2009 and then Prime minister in 2014, was pushed out by Erdogan who believed he could challenge his rule. Ahmet Davutoglu joined the opposition alliance against the AKP. After two decades Erdogan has no transition strategy and appears not to even be building anyone that could take over after him. This is likely because Erdogan doesn't plan to bow out any time soon. With a reeling economy and opposition growing the longer Erdogan remains in power the more the opposition against him will grow as Turkey's problems also grow.
The AKP is turning more into an Erdogan cult with all potential challengers being side-lined
The European media sided firmly with the opposition in the election race. The Economist endorsed Kemal Kilicdaroglu as the next president of Turkey, whilst the French Le Monde believed Washington, Paris and Berlin secretly hoped for Erdogan's defeat. European leaders have for long criticised Erdogan's growing clout and involvement in global issues. They no longer see Turkey as another Luxembourg or Portugal who would just melt into the European Union and settle for political issues decided by European powers. This is why Turkey's EU accession has come to a stop and has been so for a decade. But we also find across the Atlantic opposition is slowly growing against Erdogan.
For a long time Erdogan built his own and Turkey's global popularity upon his relationship with the US. The US found Turkey in Iraq, Palestine, Syria and Libya as someone they could work with who was in step with Washington's global agenda. From the first time back in 2003 when Condoleezza Rice visited Turkey and spoke of a shared vision for the world, US officials praised the Turkish model and presented her as a growing regional power who should be at the table on key global issues. For Erdogan, Turkey's global ascent was a central rallying call of his leadership credentials. But as Erdogan's power grew some in the US worried about him and turned against him. This resulted in a freeze in Turkish involvement in the development of the F-35 and the refusal to export as well as transfer technology of a US air defence system. The Senate in 2020 managed to pass a sanctions package against Turkey due to its purchase of the S-400 missile system from Russia. President Trump had worked to delay passing sanctions against Turkey, but he lost the 2020 presidential election. Whilst Turkey and the US work together on a host of global issues, opposition is growing in the US against Erdogan.
In many ways Erdogan managed to achieve the easier part of his two-decade rule of winning the elections. What will be more difficult is fixing the economy, keeping his detractors at bay and maintaining Turkey's foreign relations. With the gap in his electoral victories shrinking, in many ways, after two decades, Erdogan can really only lose now as his challenges all mount up.