The Abraham Accords, informally known as the Deal of the Century, is the latest attempt for the normalisation and acceptance of Israel with its neighbours. Israeli Defence Minister and alternate Prime Minister, Benjamin Gantz, thanked US President Donald Trump and Mohammed bin Zayed Al Nahyan of the UAE for inking the Abraham Accords. Gantz highlighted, "I would like to thank first and foremost US President Donald Trump, a true friend of Israel, Prime Minister Benjamin Netanyahu and Sheikh Mohammed bin Zayed. The agreement expresses the alliance between regional countries that are interested in regional stability and cooperation, and emphasizes Israel's eternal aspiration of reaching peace with its neighbors."
Israel's violent birth into the Middle East has always posed a problem for its neighbours and for its own image. A policy of state expansion through war with its neighbours and illegal settlement expansion into Palestine has done little to improve this image. For Israel, the normalisation with another nation in the Middle East represents a significant achievement as it has for long worked to normalise its presence in the region. Acceptance and normalisation in the region is the only solution for the long-term security of Israel due to the many strategic weaknesses. These weaknesses are geostrategic in nature meaning they exist due to the very nature of the nation and so are a constant or at the very least pose exhaustive problems for it.
Israel is an artificial nation created by colonial powers. The nation is so small that in any war scenario Israeli territory would suffer from significant loss and damage as it will have to fight from within its own territory. As a nation with less than 8,100 mi² of land, smaller than Wales in the United Kingdom and a population the size of London, Israel lacks strategic depth. At its narrowest, Israel is a mere 10 miles wide (not including the West Bank). A hostile fighter could fly across the core of Israel (from the Jordan River to the Mediterranean Sea) within four minutes. Israel is surrounded by Muslim nations. Egypt, the largest country in the region and with a population 11 times the size of Israel can field a military that will outnumber Israel. This means Egypt can absorb casualties at a far higher rate than Israel. This would mean the Egyptian military can engage in an extended, high-intensity battle that would break the back of the Israeli military with a rate of attrition that Israel cannot sustain. If Israel was forced to simultaneously engage with the other countries it shares borders with, dividing its forces and supply lines it would run out of troops long before Egypt, even if Egypt were absorbing far more casualties.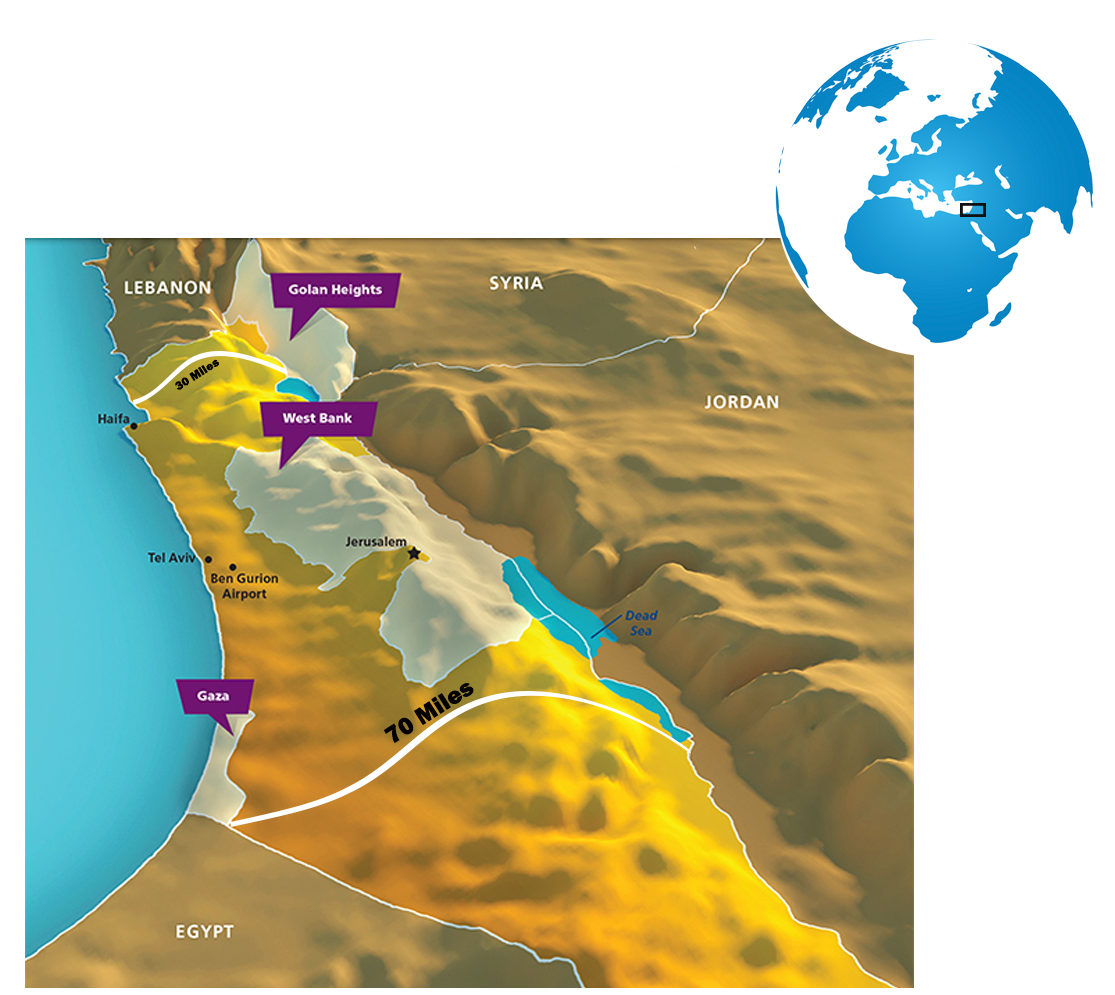 Every war, invasion or attack, is an existential threat for Israel. Despite its aggressive posture, the country's geography and demography works against it. As a result, Israel depends upon US military and economic assistance. For its investment in military platforms is prohibitively expensive and purchasing platforms from abroad have consistently come with strings attached. The quantitative imbalance has been dealt with through the development of an industrial base that maintains an asymmetrical Qualitative Military Edge (QME). Knowing it cannot compete with the region on quantity, Israel has focused on maintaining fewer but qualitatively more advanced platforms. If Egypt or Syria were to go through rearmament, they would bankrupt Israel. The wars Israel has been victorious in were not possible without US supplies.
Israel faces significant economic dilemmas. It has a GDP of around $370 billion which is just too small to cater for its strategic imperatives. This has a knock-on effect on how much taxes the government collects, especially as it subsidises the world's Jews to migrate to Israel to normalise its occupation. Israel's demography also suggests it has a labour shortage as it only has 4 million people. Economic development and industrial development are labour intensive and dependent on knowledge and skills retention. With such a small labour force Israel is reliant upon foreign knowledge and expertise. All of this means Israel cannot survive with the domestic economy it has and it has come to rely upon foreign markets.
As a nation with less than 8,100 mi² of land, smaller than Wales in the United Kingdom and a population the size of London, Israel lacks strategic depth
Israel will never become self-sufficient as it will always have to import energy. Israel relies heavily on external imports for meeting most of its energy needs, spending significant amounts from its domestic budget for its transportation sector which relies on gasoline and diesel fuel, while the majority of electricity production is generated using imported coal. Whilst the region has an abundance of oil and gas, none of this is in Israel. The geography of Israel is also not naturally conducive to agriculture. More than half of the land area is desert and only 20% of Israel's land area is naturally arable. The climate and lack of water resources also do not favor Israeli farming as a result Israel suffers from a chronic water shortage.
To get around its economic dilemmas Israel has focused on key industries for its survival; technology, military and foreign aid transfers. It also relies on influential Zionists from across the world, especially in the US to influence the foreign policies of these states in favour of Israel. Israel has a heavy dependency on the goodwill of other states. If it was to lose favour  it is too small for a country to be self-sufficient. Because of the strategic role Israel plays in the Middle East, it has been spoiled with military hardware and technology which would have otherwise taken it decades to develop. Israel is reliant upon foreign nations and people for its survival, without them it simply could not exist due to the geographical challenges it faces.
Israel has supported America's agenda in the Middle East as it needs a foreign patron to survive. But the US being a global power has interests within the Middle East beyond Israel. Despite significant lobbying efforts in the US and constant statements of shared history and interests, Israeli governments have regularly fallen foul of the US and even been disciplined by them. The Obama administration agreed to a nuclear deal with Iran despite condemnation by Israel as it strengthened Iran. The US looks upon two states in historic Palestine with parts of the West Bank being a Palestinian state. This is a strategic problem for Israel as it will not control all the strategic areas in and around Palestine. Israel has attempted to build settlements and expand its final territory, but it does not see eye-to-eye with the US on this issue. Israel is such an artificial creation which is why there is very little it can do and to compensate for this it needs a foreign patron, the US, to survive. Despite differences with the US on numerous issues, Israeli leaders have concluded there is no other way it could survive in the region without a foreign backer.
Israel is such an artificial creation which is why there is very little it can do and to compensate for this it needs a foreign patron, the US, to survive
Israel faces such a precarious military, demographic, geographic and economic reality that no amount of  development can change these facts. Despite receiving significant US funds and military equipment it is outnumbered and surrounded. The only viable strategy for Israel is for the regional nations to normalise relations with it. This will allow it to focus on commercial and economic issues rather than military and security matters. Therefore, normalisation with the regional nations is the sole and most cost-effective solution for Israel's security and strategic needs as well as its survival.
The next parts in the series will explore how Israel has attempted to normalise its relations with the nations in the region and beyond.