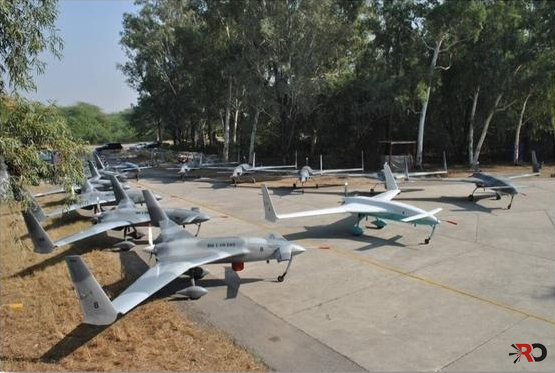 By Bilal Khan
On the 13th of March the Pakistani Army announced that it had successfully tested an armed drone in the form of the Burraq, an indigenously developed unmanned aerial vehicle (UAV). The Burraq successfully fired a locally produced laser-guided air-to-surface missile (named Barq). Pakistani officials deemed the test as a "great national achievement" and asserted that it made Pakistan one of a few countries in possession of armed drones.[1]
It is no secret that Pakistan had been in pursuit of armed drones. In fact, the Pakistani military openly requested such armaments from the US on numerous occasions, but Washington had not been very forthcoming in exporting such systems, particularly the MQ-1 Predator and MQ-9 Reaper (which had been used in over 350 separate strikes in Pakistani territory from 2004 to 2013). In fact, the export of armed drones is a fairly recent trend, even for America, who has only exported such systems to a handful of NATO powers (among them Italy and the United Kingdom).
For Pakistan, who had been using drones for surveillance and reconnaissance purposes for close to 20 years, the acquisition of armed drones was considered a natural step forward. However, given the sheer effectiveness of America's drone campaign in dampening the Taliban and its resistance to the US occupation of Afghanistan, the procurement of armed drones had taken on greater urgency, not just in Pakistan but elsewhere around the world as well, particularly China, India, Israel and Turkey.
In general, armed drones are low-cost combat aircraft. For offensive operations where the margin of risk (unto the pilot) is very high, drones offer militaries the ability to engage in air-strikes with essentially no operational risk unto their own personnel or high-value assets (such as fighter aircraft). In some cases, such as those of targeted assassinations or sabotage, the use of drones can also preclude the use of Special Forces operatives. In areas with less developed or able air defence systems, drones can also be significantly more difficult to detect (much less intercept) than fighter aircraft.
The induction of the Burraq will certainly alter the manner in which Pakistan will continue its internal operations in Waziristan and the Tribal Areas. For starters, fighter aircraft such as the F-16 and JF-17, and attack helicopters such as the AH-1F/S Cobra, will see fewer sorties (and thus reduced stress on their airframes and fewer expensive flight hours) as the balance of most air-strikes, especially against low-value targets and key individuals, are taken up by the Burraq. The inclusion of Burraq in operations such as Zarb-e-Azb will also reduce operational costs for the military (thanks to reducing the need for fighter aircraft and helicopters in attack missions). The Burraq will also enable the Pakistani military to enhance its aerial surveillance footprint over the Tribal Areas as well as the Pakistan-Afghanistan border (by virtue of having a low operational cost and up to six hours of flight endurance per sortie).
The Burraq was in development since at least 2009-2010 when Pakistan began producing the Italian Falco UAV (under-license) for surveillance and reconnaissance use.[2] The Burraq bears a close resemblance to the Chinese CH-3A, indicating that Pakistan received assistance from China.[3] This would not be surprising given how the two have cooperated on many occasions (e.g. JF-17) to meet Pakistan's defence needs. This is not to suggest that Pakistan could not develop its own drone system without significant foreign assistance. There are numerous public and even private sector entities in Pakistan with able experience, such as the Pakistan Aeronautical Complex (PAC), who produces parts for Turkey's Anka UAV.[4]
Expediency likely influenced Pakistan to go with an off-the-shelf purchase from China (with local manufacturing) than to develop from scratch domestically. An armed drone would have to be a UAV capable of medium-altitude-long-endurance (MALE) flight, and developing a MALE UAV is to an extent an arduous process, especially for Pakistan whose research and development capacities are very limited. However, this does not rule out the possibility of an indigenous design in the medium to long-term.
The second challenge to developing an armed drone has to do with communication. In order to remotely operate a drone at long range (especially within hostile territory), the operator will need  to depend on a satellite network system capable carrying an operator's commands to the drone as well as in allowing the operator to view real-time visual, targeting and navigational data from the drone. While such data can be passed via standard radio waves sent through towers or other aircraft such as airborne early warning and control (AEW&C) aircraft, such methods are not as efficient and effective as satellite-based communication.
In fact, the availability of a MALE UAV airframe and satellite network are the two vital ingredients to an effective armed drone program. The United States has both with the Global Positioning System (GPS) serving as its network back-end for not only drones, but communication between assets, precision-guided bombs and missiles, and other assets. The Burraq is likely dependent on China's Beidou Satellite System (BDS) for communication, which Pakistan gained access to in 2013[5] and as such, Pakistan is effectively beholden to the Chinese in terms of the flexibility it has in using the Burraq. In other words, Pakistan is not independent in regards to its drones (as well as other precision-guided munitions and stand-off weaponry).
China notwithstanding, the availability of BDS enables Pakistan to pursue a wider range of weapons R&D, especially in regards to systems that are dependent on satellite guidance and communication. While Pakistan had already inducted precision-guided munitions for use on its F-16s (i.e. the American Joint Direct Attack Munition or JDAM), access to BDS will enable it to readily pair its JF-17s with similar weaponry without having to go through an approval process with America. It will also enable Pakistan to enable satellite network support for its existing inventory of cruise missiles and other stand-off weaponry. That said, even if Pakistan were to maintain redundancy in satellite navigation and communication (by adopting GPS and BDS in parallel), it would still not be immune from external influences unto its tactical and strategic assets.
[1] http://www.theguardian.com/world/2015/mar/13/pakistan-military-new-combat-drone-great-national-achievement
[2] https://www.youtube.com/watch?v=1wfAR9bvHCI
[3] http://www.army-technology.com/news/newspakistan-inducts-local-unmanned-vehicles
[4] http://tribune.com.pk/story/548713/pakistan-builds-parts-for-turkey-drones/
[5] http://archive.defensenews.com/article/20130507/DEFREG03/305070030/Pakistan-Employs-China-s-Beidou-Guidance-System-Access-Not-Guaranteed