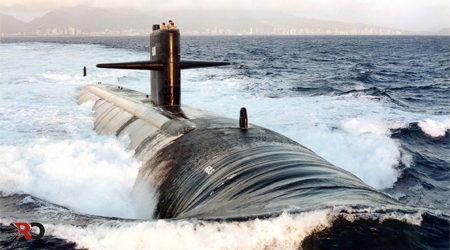 By Adnan Khan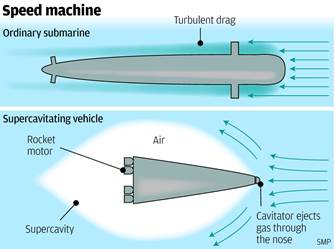 Chinese researchers announced late August 2014 that they have made progress in developing submarines that can travel at supersonic speeds.[1] Supercavitation, as it is known has been around for decades and has been applied on smaller objects such as torpedo's whereby a bubble created  around it which reduces drag, thus allowing the object to travel quicker, as it moves through water. The Soviets used this technology on the Shkval torpedo in the 1960s and 1970s, it was however only capable of 230 mph but for no more than a few miles. We were skeptical of this announcement at RO, as China historically does not reveal such sensitive information. This news was also not released through the usual Chinese channels, which are government officials or military officials and think tanks linked to them. On this occasion, the Harbin Institute of Technology's project's lead researcher, Li Fengchen revealed such information, which would suggest an academic is looking for more funding for his research.[2] Nevertheless at RO we think this would be a good opportunity to look at the role of Submarines and the role they play in naval power projection, something essential for Chinese regional ambitions.
There have only been three major paradigm developments in naval warfare. The first was the development of large capacity, sail-powered ships carrying cannon, this led to a rapid expansion of European navies. Submarines were then developed in the late 19th century and by the end of World War I had proven to be a powerful arm of naval warfare. During World War II, the German Navy's submarine fleet of U-boats almost starved the British Empire into submission and inflicted tremendous losses on US coastal shipping. The last major shift in naval warfare occurred with the introduction of the aircraft carrier in 1940. Submarines very quickly became a naval weapon of choice when they were first developed.  A submarine is capable of moving and fighting underwater. They are designed around a pressure hull – a steel tube which is strong enough to withstand water depths of 1,000 meters or more. Submarines have water tanks that are filled and emptied to lower and raise the sub in water. Submarines differ in various ways from their size, to their propulsion as well as weapons.
Developing a submarine is considered one of the most complex military tasks. This is because a submarine is a sealed metal container that contains people and a limited supply of air. They are limited in how big they can be constructed as a result they are crammed with equipment, weapons and supplies. The challenge for any nation developing their own submarines is the fact that the engine, crew and weapons all have to be cramped into a confined space. If the submarine is nuclear powered, a reactor has to be squeezed into the same space. Even
more space will be taken up if the sub carries a nation's nuclear deterrent. No one wants to reside anywhere close to a nuclear reactor on land, crew members have to sleep, eat and work next to a nuclear reactor and other toxic chemicals and weapons. The US and Russia maintain the largest stock of submarines, (most of North Korea's submarines are obsolete) many of these are legacy platforms from the Cold war era. Today around 43 countries operate around 600 submarines, however only the US, Russia, Britain, France, China and India can serial manufacturer  submarines.
Submarines need to be powered to operate their propellers and internal electronics which provides the forward and reverse thrust in the ocean. Submarines were originally equipped with diesel engines that burn fuel, even today most submarines are the old diesel-electric powered, which use diesel engines for surface cruising and batteries for underwater work. The submarine must surface (or cruise just below the surface using a snorkel) to run the diesel engines. Once the batteries are fully charged, the submarine can head underwater. The batteries power electric motors driving the propellers. Battery operation is the only way a diesel submarine can actually submerge. Aside from using lots of fuel, the batteries are heavy, dangerous and require recharging on the surface at least 6 to 8 hours a day.[3] Newer versions such as Air Independent Propulsion (AIP) have the capacity to run silently underwater for up to 72 hours.[4] It was such shortcomings that led the US in 1954 to construct the first nuclear powered submarine which used nuclear reactors to drive the main propeller shaft. Nuclear generators need no oxygen, so a nuclear submarine can stay underwater for weeks at a time. One kilogram of uranium-235, which is used to fuel a submarine nuclear reactor contains two to three million times the energy equivalent of oil.[5] Because nuclear fuel lasts much longer than diesel fuel, a nuclear submarine does not have to come to the surface or to a port to refuel and can stay at sea longer. Today only the US, Russia, Britain and France have overcome the challenges in developing a nuclear reactor, and scaling it to fit into a cramped sealed container.
Acoustics are critical in submarine warfare and keeping them quiet is essential in anti-marine warfare. Every submarine has to survive underwater warfare and detect other ships before they are detected. Submarines try to hide in the dark and murky waters of the world's oceans and the larger a submarine is the easier it is to find. Submarines use sonar (SOund NAvigation and Ranging) i.e. powerful microphones to detect enemy submarines. Similar to radar, sonar broadcasts a signal, in this case sound and listens for it to bounce of objects.[6] As the ocean is thicker and 'busier' than air a computer is required to sort out all the returning signals. A submarine has to produce its own air, electricity, water and heat and these can be detected due to the noise they make. Much research has been conducted and incorporated into submarine design in order to reduce the sounds coming from submarines. The materials used to make the many submarine components have, are manufactured to ensure they give-off reduced noise. Current research includes coating a submarine that bends acoustics waves before they hit the surface, guiding them around the submarine smoothly.[7] Against active sonars, submarine stealth is achieved by anechoic tiles and clever design to reduce the strength of reflected signals. Today's submarines are many decibels quieter than their predecessors and present lower target strengths to active sonars. It was such developments that led to a collision between French and British nuclear submarines in 2009, due to them being extremely quiet they were able to blunder into each other without either spotting the other.[8]
The world's oceans are set to get busier, especially in the Asia-pacific as China expands its sea assets in order to protect its economic supply lines. Since submarines first emerged much work has undertaken to quieten submarines and this has resulted in advances in radiated noise management which has made detection by sonar more difficult. Ultimately, large submarines are large, and there's a limit to what can be done to reduce propeller and flow noise and target strengths can't be reduced below some physical limits. The world's major powers have all used Submarine-Launched Ballistic Missile (SLBMs) submarines as aspects of their nuclear deterrent, the rationale being a retaliatory capability will remain secure in the event of a nuclear attack. For the foreseeable future Submarine warfare will remain a central role in naval strength and with the worlds oceans becoming busier, it is just a matter of time before an incident will take place.
---
[1] http://www.breitbart.com/Big-Peace/2014/08/25/China-Military-Claims-to-Design-First-Supersonic-Submarine
[2] http://time.com/3182422/chinese-supersonic-submarine/
[3] http://science.howstuffworks.com/transport/engines-equipment/submarine3.htm
[4] http://www.naval-technology.com/features/feature127881
[5] http://www.euronuclear.org/info/encyclopedia/f/fuelcomparison.htm
[6] http://science.howstuffworks.com/submarine-info3.htm
[7] http://www.popsci.com/technology/article/2011-12/next-generation-silent-submarines
[8] http://www.dailymail.co.uk/news/article-1146124/How-close-did-crash-submarines-packed-nuclear-missiles-come-disaster.html